MFA meetings: More than 60 companies got informed about the Kenyan Market
Submitted by

kenyagreece

on Thu, 06/26/2014 - 17:46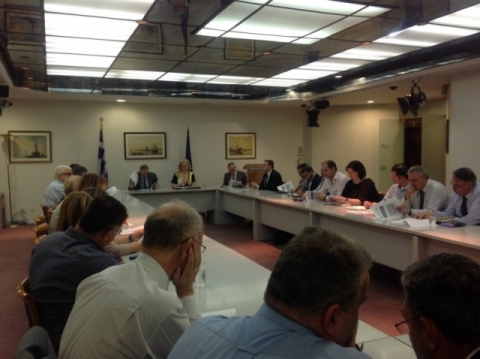 More than 60 companies participated in the two meetings that the Ministry of Foreign Affairs organised at 16th and 17th of June 2014 in order to inform the Hellene business persons for the Kenyan market.
The B Directorate General of International Economic & Trade Affairs and the B8 Directorate of Business Development organised the two meetings as there is a growing interest from Hellenic businesses to invest and develop their activities in the fastest growign market of Kenya. 
The participants got informed by the Honorary Consul of the Republic of Kenya in the Hellenic Republic, Mrs Vicky Pantazopoulou regarding the strategic plans and the legislation that formulates the business and investment enviroment in Kenya as well as the 2nd Hellenic Multi Sector Investment & Trade Mission to Kenya, which is going to be held in Nairobi from 1st to 2nd of October 2014. The Hellene business persons showed great interest not only for Kenya but also for the East African Community, where Kenya plays a key role.
In the meeting of 16th June participated companies from the following sectors: 
Constructions- Building Materials - Building Machinery - Mining
Energy and Renewable Energy - Electricity- Networks
Technology-IT-Education 
In the meeting of 17th June participated companies from the following sectors: 
Agriculture - Fisheries/Aquaculture - Food Industry

Medical Equipment - Pharmaceutical & Parap

harmaceutical - Medical Centers
Textiles - Clothes - Footwear
During the meeting of 17th of June, the participants had the opportunity to discuss with the members of the Kenyan delegation, who were in Athens on official visit. 
The majority of the participants expressed their interest to participate in the 2nd Hellenic MultiSector Investment & Trade Mission to Kenya.